Smart Watch (FOR BOTH ANDROID/IOS)
Rs. 2,999.00
Rs. 5,999.00
SAVE 50%
 WHY YOU SHOULD BUY A  
SMARTWATCH
Currently, smartwatches are becoming a trend and are sought after by many people. 

Besides being cool, this watch can also facilitate your activities, especially those of you who are active on social media or often use a smartphone.

Very easy for you who often do outside activities, such as sports, driving a motorcycle, driving a car, or using public transportation. 

You can see your social media notifications on the smartwatch screen so you don't have to bother opening a smartphone, but it's also safer.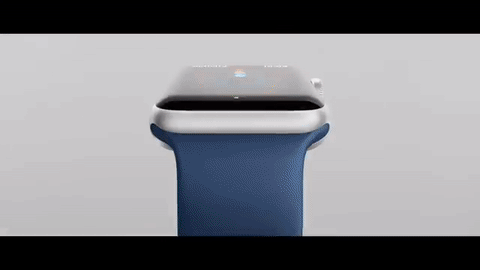 Cool Design
SIM & Micro SD Card slot
 Complete Features
Various cool features that you can get:
Notifications phone, SMS, social media, email, etc.
Pedometer for counting steps, distance, and calories burned.
Music Player(Spotify, Soundcloud, Pandora, Google Play, iTunes, Apple Music, etc.)
Anti-Lost, the alarm will sound when you are 5.5-10.9m away from the smartphone.
Sedentary Reminder reminds you to rest so you don't get tired
Sleep Monitor to inform you about the quality of your sleep
Battery Life lasts up to 24 hours for normal use (Note: depending on
usage)

Real Image
You will get the real watch which is shown in the image.
Packing list:
smart watch*1
charging cable*1
user manual*1
original retail box*1
Note
All features can be run on Android smartphones.
Features for the iPhone can phone, phone book, music play, camera, clock, pedometer, sleep monitoring, sedentary remind, etc. But not for SMS, remote camera, App.
After the item is received, please fully charge it before it is used.
STOCKS RUNNING OUT! ORDER NOW AND GET FREE CASH ON  DELIVERY
5 GREAT REASONS TO SHOP WITH US:
best quality
works smoothly sound audible perfectly all the functions work, in general everything is fine, the package package is reliable! Thank you and i recommend this model to buy from deal2kart
Excellent watch for the child. Delivery 2 days, everything works well, audibility when calling is excellent. Thank you, i recommend
Excellent Product, arrived very quickly delivery.
A good product, though not white features good quality material Silver
Beautiful watch and very fast delievery Thank u